Shift to Daf and you will never shift again
Waterman Electric Athol
Waterman started in1969.
His first electric car was a 1966 Datsun 1200, which he experimented with and converted in 1969-70. He sold the first one in 1971.
He stayed with Datsun 1200s until 1973 when that manufacturer stopped shipping them.
So he had to took around for another vehicle, he converted a Ford Pinto, but then settled on the Dutch DAF.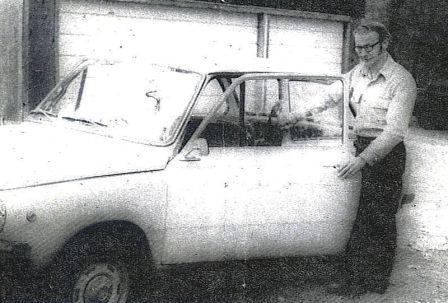 In 1975 he imported 10 Dafs type 44 for $ 3000 a piece from Garage de Burgh in Eindhoven Holland those under a two year import exemption from the federal government followed by a second shipment in 1977 this time 14 Dafs type 46. For electric conversion he removed the 2 cylinder flat twin petrol engine, which were sold to speed boat builders. He also removed the fuel tank and exhaust system. Installed an 42 volt electric motor 16 six volt batteries and reinforced the front and rear springs to carry the heavy load off the batteries.
Since then he has been working on Renault Le Car until he stopped his business in ????.
| | | |
| --- | --- | --- |
| | | |
| | | |
| | | |
| | | |
| | The cars runs on 16 six volt batteries half of them in the front of the car half in the back of the car | |
| | | |
More electric DAFs
| | |
| --- | --- |
| | |
| Shell in the Uk, converted a 1968 Daf 44 | |
| | |
| | |
| An electric Kalmar in Canada | In 1976 William Shafer, Chicago Illinois converted a 1966 Daffodil to electric drove this car until 1990. |
| <![if !vml]><![endif]> | <![if !vml]><![endif]> |
30-04-2006