another amazing story
He first heard of the DAF engine in a short article in Sport Aviation magazine a few years ago. Then in his search for a good power plant for the Cracker Jack, he learned of an individual who was bringing "ready to fly "Dafs into the country and selling them under the name of Flying Dutch Power. Knowing no more than the approximate size and weight, he bought a 750 cc engine, slight unseen.

Happy which what he had received, he know that the DAF engine was the best, he had found so far.

It's size, weight and looks fit the plane perfectly. But after a few hours of testing, it was evident that this particular engine had problems. A complete tear down revealed terrible wearing of the bearings caused by poor cleaning prior to assembly in Holland
With help of his brother, Bob, an expert on air-cooled engines and an A & P mechanic, the DAF was new parts supplied, and modified.
Another amazing story about a DAF car product.

Not the variomatic, but this time the DAF 844 cc flat air-cooled twin.

Pete Plumb from Bakersfield CA, has build a small aircraft and found a good engine.
DAF 85P

Type: Air-cooled, opposed twin cylinder, OHV 4-stroke

Displacement: 844 cc Stroke: 73,5 mm Bore 85.5 mm, Compression ratio 7.5:1, Dry Wt 83 lbs, Total Wt (intake, exhaust Etc) 95 lbs, Max factory rated BHP 40 @ 4500 rpm Max Aircraft conversion BHP 32 @ 3600 rpm, Carb Mikuni 28 mm, Ignition one Slick 4216 Maneto, plugs 2 Champion REL-37 B Aviation, Prop WWS 52"X 28"
A second engine was build. The engine is based on a stock DAF 844 case, heads and crank with VW (cima ) 90.5 mm cylinders and pistons. Good for 950 cc. All what to do was to make them fit to the case. Turn about .025"or so off the skirt to fit into the case hole and add a sleave about .060 thick or so to the top to fit the head. The stock case studs fit the cylinder perfectly. He had Carrillo make me a set of "H "beam rods with the DAF "big end" and VW "" small end"" and a design Center to Center length to achieve the compression ratio of 8:1 that he needed.. and that's it.

He thinks you could go even to the 92 mm Cimas, to make it 1000 cc.
Another plane with DAF engine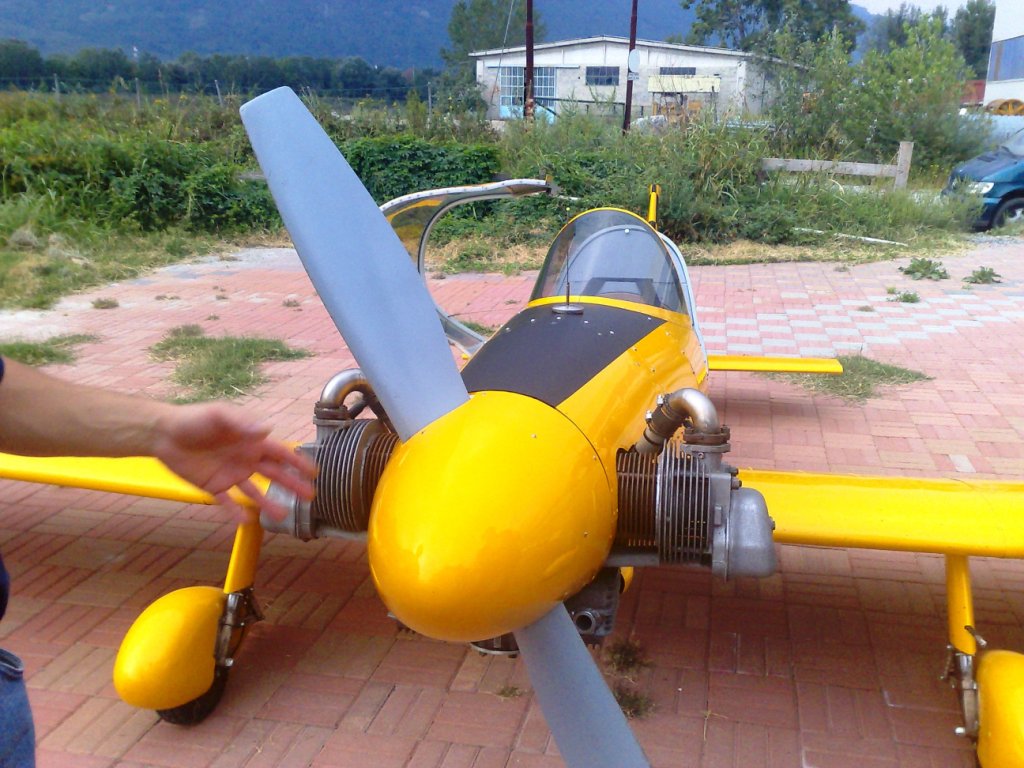 This plane was made by Marco Campagnol, an Italian who lives near Turin, in the north west of Italy.
For more details see : http://www.flyhummel.com/ and http://www.ulm.it/hangar/mix/mnulm/arfhtm/diario/Ferrara107.htm
11-10-2009