Shift to DAF and you'll never shift again
| | |
| --- | --- |
| | THE HANDY WAGON PROJECT |
| | |
Early 1960's The project started with a conversation between Mr. Ray Thorton and the Chairman of the board of the Arkansas Louisiana Gas Company Mr. Witt Stephens about the opportunity to develop a lightweight service vehicle with outstanding fuel economy. A four wheel vehicle design was settled and a wooden model of the cab on a 1:10 scale was made. The most vital element in our efforts was the acquaintance with ED HANDY, a pipe-line construction foreman for the gas company. .Mr. Ray Thorton became intrigued with the lightweight motor and variable speed transmission in use in DAF automobiles . Both traveled together to Brooklyn, New York to visit Mr.Jan Soeten.. After talking to Mr. Soeten we decided to buy two vehicles and to have then delivered to Little Rock. We used one as a test vehicle and completely disassembled the other. We decided not to use the DAF body because of limitations of the cab space and we wanted the versatility of being able to put different configurations on a steel frame vehicle. The first 25 vehicles were similar to the prototype, the next vehicles were modified to allow better access to the engine. After setting up a miniature factory and assembly line 90 vehicles were built Shortly after Ed Handy dead in 1972 all vehicles were sold to a wrecking yard. One was left to keep it in the family.
| | | |
| --- | --- | --- |
| | | |
| ED Handy en Ray Thornton | Ed Handy | A bunch of Handy wagons 1964 |
| | |
| --- | --- |
| | |
| Bill Radtke and Ray Thornton The last Handy Wagon | Ed Handy |
With special thanks to Bill Radtke, He did a long time investigation about the Handy Wagon project.. Drove to Little Rock in 1984 and visited Lola Handy the widow of Ed Handy. He also met Ray Thorton at present time President of the University of Arkansas.
| | |
| --- | --- |
| | |
| In the DAF museum Holland | Kaz Wysocki and the Handy for the DAF museum |
In 1996 Kaz Wysocki got an offer about a Handy Wagon, He decided to buy the vehicle with the intention that this unique vehicle has to be displayed in the DAF Museum in Eindhoven the Netherlands. The v Doorne family bought the vehicle and had it shipped to Eindhoven, to expose it in the DAF museum.
For more photo's Fotoalbum daf - DAFs in the USA/Handywagon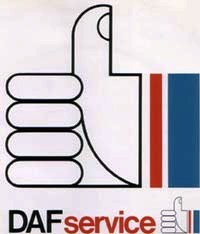 09/08/05